Continuous Frying Machine
DH503
Conveyor Frying Machine/Frying Tunnel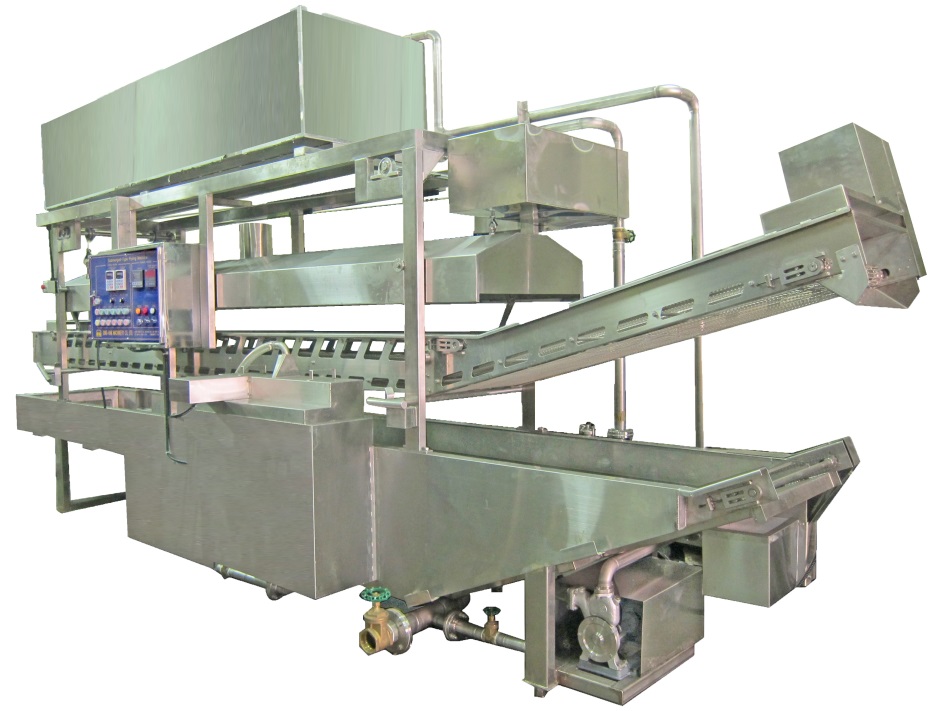 Automated continuous frying for a variety of prepared food products including:
Chicken nuggets, chicken wings, drumstick, seaweed, hash browns, potato chips, French Fries, breaded products, spring rolls, vegetarian foods, batter coated products, tempura pieces (fish paste products)…
Design of hold-down belt, versatile, suitable for buoyant products which floating on the edible oil and of course, suitable for non-buoyant products.
Automated continuous frying for a variety of prepared food products including:
Chicken nuggets, chicken wings, drumstick, seaweed, hash browns, potato chips, French Fries, breaded products, spring rolls, vegetarian foods, batter coated products…
Precise frying control : Accurate control temperature and conveyor speed for uniform products.
A variety of conveyor belts are available for different products. For example, for batter coated products, to avoid sticking, we use track-type belt . For tiny products, e.g. chicken popcorns to avoid get stuck when conveying, we use mesh belts.
Safe heating system automatically maintains the optimal oil temperature and adjusts quickly to changes in product load.
Whole machine is made of stainless steels includes hold belt and chain. Comes with a coarse oil-dreg collector for extending the life of edible oil.
Auto-control frying temperature and speed to maintain good quality. Internal gas combustion. Durable and with low breakdown rate. External oil storage facility for cleaning frying tank.
Ding-Han's custom designed system is available to meet your unique production needs.
Features
I. The whole machine is made of stainless steel. Food grade standard.
II. Fry speed and temperature can be adjusted.
III. Comes with an oil storage tank which deposits oil dregs and maintains oil quality.
IV. High efficient gas burner keeps oil temperature and economizes fuel.
V. It is with flame sensor. If happen unusual accident, it will shut off for safety.
VI. [Option] : External feeding conveyor.
VII.[Option] :The conveyor belt is auto-lifted / manual-lifted to facilitate cleaning.
** Compared with DH508, the biggest difference is DH503 is direct-heating.
Specification
Power: 220/240/380V/415V,50/60Hz,1φ / 3φ.
Size: Customized.
Fuel: Gas/LPG/LNG/Diesel.
Applications
Chicken nuggets, chicken wings, drumstick, seaweed, hash browns, potato chips, French Fries, breaded products, spring rolls, vegetarian foods, batter coated products…
Related Products

---
Press Release
[Expo Notice] FHA Singapore is postponed to 2-5 March 2021

Venue: SINGAPORE EXPO // Booth: 2K2-03

Read More

[Holiday Notice] Dragon Boat Festival 2020/06/25 - 06/28

Our office will be closed 4 days for Dragon Boat Festival. Business will resume as usual on 2020/06/29(Monday). Thank you for your kind attention.

Read More

[Expo Notice] 2020 Foodtech & Pharmatech Taipei is postponed to be advised

Please contact us for any inquiry.

Read More