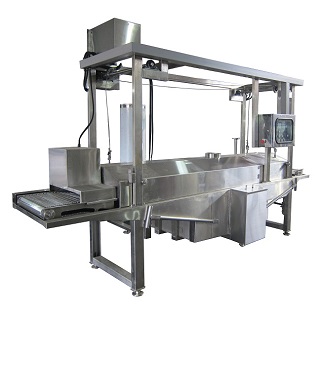 Continuous Frying Machine
Ding-Han's continuous frying machine is customized design to meet your capacity and production.
Automatic continuous frying machines can be customized according to your products, productivity, and process. Please let us know your requirements so that we can introduce you the most suitable frying machine. Whole machine is made of food grade stainless steel. The frying temperature and frying time is adjustable and automically controlled.

The following features can be made for order.
[Conveyor Belt] Its pattern is up to the products characteristic, e.g. woven wire belt, flat wire belt, punching drill, etc.
[Lifting System] Conveyor belt can be lifted for cleaning.
[Coarse Filtration System] It can filter & collect coarse oil-dreg.
[Scraper System] It can scrape out the bottom oil sludge.
[Hot Oil Circulation System] Keep oil temperature even.
[Oil Storage Device] It can store oil and deposit the residue.
[Oil Supply System], [Abnormal Temperature Safety Device], [Special Module], etc can be tailored as required.
---
E-Catalog Download
You can get Ding-Han's all products series e-catalog by clicking below link.

Download
Want to know more?
Please contact us :
dh-machine@umail.hinet.net
More Details
Food Processing Equipment | Continuous Frying Machine Supplier - Ding-Han
Ding-Han Machinery Co., Ltd. is one of the well-known food processing equipment suppliers in Taiwan, since 1996.
Regardless of Continuous Frying Machine, meat processing machine, vegetable processing machine, bread making equipment or commercial deep fryer, every commercial kitchen equipment designed by Ding-Han is to meet your requirement of high productivity, and low cost.
Ding-Han has been offering customers food processing machinery, stand alone and production line, with advanced technology. Contact Now to get the best deal!
View our quality products
Meat Grinder
,
Stirring Machine
,
Mixer
,
Ribbon blender
,
Fish De-Bone Machine
,
Bowl Cutter
,
Vacuum Tumbler
,
Stir-Fry Machine
,
Filling Machine
,
Tightening Clipper
,
Warm Meat Slicing Machine
,
Vegetable Cutter
,
Shred Cutter
,
Industrial Blender
,
Vegetable Slicer
,
Ginger Cutter
,
Carrot Shred Cutter
,
Chopper
,
Hasher
,
Multi Function Cutter
,
Intestine Cutter
,
Peeler
,
Squid Cutter
,
Food Forming Machine
,
Bar Forming Machine
,
Encrusting Machine
,
Breading Machine
,
Batter Coating Machine
,
Batter Transporter
,
Dust Collector
,
Oil Fryer
,
Frying Machine
,
Continuous De-Oil Machine
,
Hydro-Extractor
,
Electric-Heating Frying Machine
,
Far-Infrared Heating Fryer
,
Oil filter
,
Boiling Machine
,
Blancher
,
Steaming Machine
,
Dryer
,
Tunnel Oven
,
Cooling Machine
,
Tabletop Tenderizer Machine
,
Tendon Breaker
,
Chop Tenderizer
,
Packaging Machine
,
Cutting Machine
,
Pig Hair Remover
,
Rice Noodle Forming Machine
,
Rice Sausage Filling Machine
,
Conveyor
,
Bandsaw
,
Sifter Machine
,
Jellyfish Smash Machine
and feel free to
Contact Us
.