Boiling Cooking Machine / Blancher
DH601A
Boiling Cooking Machine / Blancher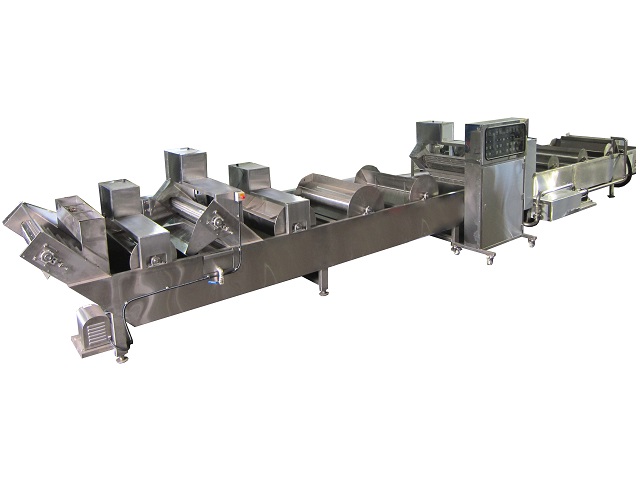 It is a professional boil fish, meat, vegetarian food, meat ball, pork thick, rou-geng, etc food processing machiney. Suitable for food company with huge proudution.
It is boiling machine for every kind food which can be cook in water, whole machine is made of stainless steels. Steam heating with recycle pump and over-flow controller to keep temperature evenly and improve quality. The temperature and speed can be adjusted as required. This machine can be customized for processing various products. It is good at processing meat ball and fish meat ball with steaming machine, they are separate machine, optional purchase. The video below was taken in our customer's factory, the meat ball was processing from boiling then steam then boiling again to make products be more elastic. If there is any assistance needed, please feel free to e-mail us!!
Features
1. The whole machine is made of stainless steel.
2. It can be customized for different food.
3. It use steaming boiler. (The steaming boiler is provided by buyer.)
4. It has circulation pump and overflow controller.
5. The temperature and speed can be adjusted.
6. Easy to clean, safety and sanitary.
7. Steaming machine is your further choice to improve quality.
Specification
Power: 3HP, 220/380V, 50/60HZ, 3-phase
Size: The size can be customized for planning whole plant to meet different needs and various products.
Applications
Broad scope of application, what the food can be boiled, this machine is available to process this kind of food. For example, eggs, meat ball, fish meat ball, vegetable, fruits, tofu, vegetarian food, shrimps, crabs, fish, seafood and so on.
Movies





Related Products

DH601B

---

It is a professional steam fish, meat, vegetarian food, meat ball, pork thick, rou-geng, etc food processing machiney. Suitable for food company with huge proudution. Batch-Type. The machine size and specification can be customized.

---

DH601AP

---

It is a batch-type food processing machinery to boil/blanch/precook fish, meat, vegetarian food, vegetable, etc . Suitable for food industry with high quality.

---

---
Press Release
[Expo Notice] Foodtech & Pharmatech Taipei 20190619 - 0622

Show Hours : 10 a.m - 6 p.m // Venue: Taipei Nangang Exhibition Center // Booth: L0725

Read More

[Expo Notice] THAIFEX 20190528 - 0601

Venue: IMPACT Exhibition and Convention Center, Bangkok, Thailand. // Booth: Challenger Hall 1, VV05

Read More

[Holiday Notice] Dragon Boat Festival 2019/06/07 - 2019/06/09

Our office will be closed for Dragon Boat Festival from 2019/06/07 till 2019/06/09. Business will resume as usual on 10th June 2019 (Monday). Thank you for your kind attention.

Read More