Meatball / Fishball Filling and Forming Machine
DH808
Beef Meatball, Bakso, Kofta Maker, köttbullar,Polpette, Spanish Meat Ball, Pet Food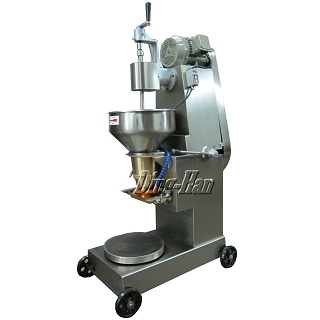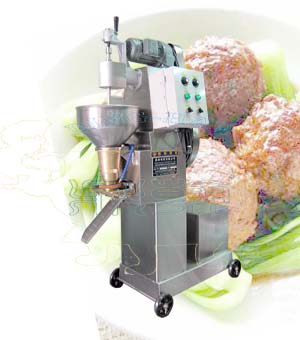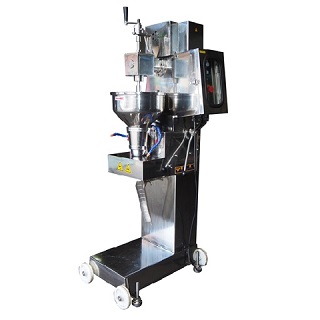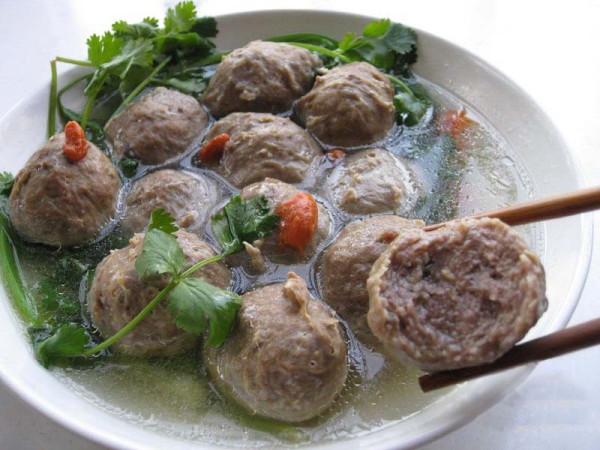 Meat ball forming machine is suitable to form every kind of fish paste, paste into ball-shape products, such as beef ball, fish ball, pork balls, croquette…etc.
Feed the material (well-stirred paste, minced meat, or other raw material) into the barrel of meatball forming machine, and it will produce a great deal of meat balls in a short time.
The machine comes with three different sizes of mold. The diameter or weight of meat ball can be adjusted by changing the molds.
There are three types for choice: turn-table, vertical and table-top type.
A. turn-table type: It can be along with a pot or plate on the spinning disk to catch the output.
B. vertical type: It can be connected with a continuous frying machine or boiling machine to complete the turnkey project.
C. table-top type: small size, suitable to be a demonstration in a daily market or food hub.
This machine with huge production, high efficiency is your best choice. Welcome to contact us to discuss more details.
Features
1. The machine is made of stainless steel. It is easy for cleaning.
2. The operation is simple and components are easy to dismantle.
3. The production speed can be adjusted with 4-step gear lever.
4. The sizes of mould can be customized.
5. High efficiency.
6. There is an another type for bigger meat ball forming.
Specification
Power: 1HP
Size: L700*W400*H1600 m/m
Production: 400~600kgs/ hr
Net Weight: 160kgs
Applications
It is suitable for forming fish paste, paste or vegetarian meterial into ball shape. Applied to meat ball, fish meat ball, pork ball, beef ball, squid ball, Kofta, spanish meat ball, croquette, animal feed, pet feed, etc.
Movies

XL/XXL Super Big Meatball

Forming Fish Paste into Ball-Shape

Bakso Sapi/Ayam/Ikan

Turntable-Type

Related Products

---
Press Release
[Holiday Notice] Chinese New Year 2020/01/23 - 01/29

Our office will be closed 7 days for Chinese New Year. Business will resume as usual on 2020/01/30(Thursday). Thank you for your kind attention.

Read More

[Expo Notice] FHA Singapore 2020/03/31 - 04/03

Venue: SINGAPORE EXPO // Booth: 2K2-03

Read More

[Expo Notice] Foodtech & Pharmatech Taipei 20190619 - 0622

Show Hours : 10 a.m - 6 p.m // Venue: Taipei Nangang Exhibition Center // Booth: L0725

Read More