Meatball Filling and Encrusting Machine
DH808-105
(Fish)Meatball Filling & Stuffing Machine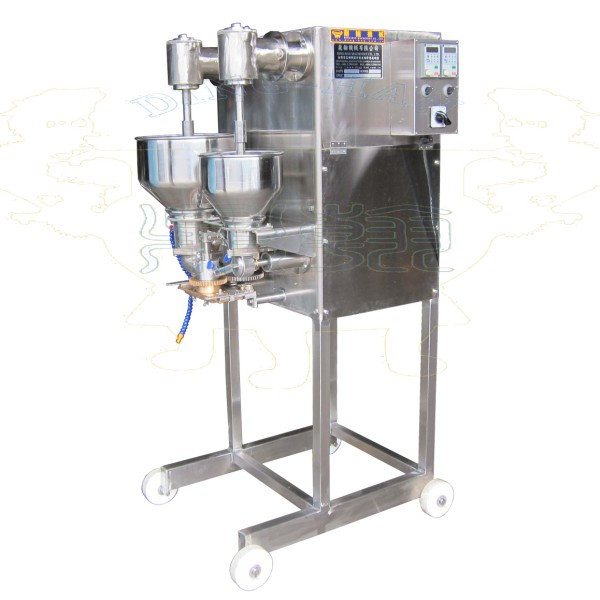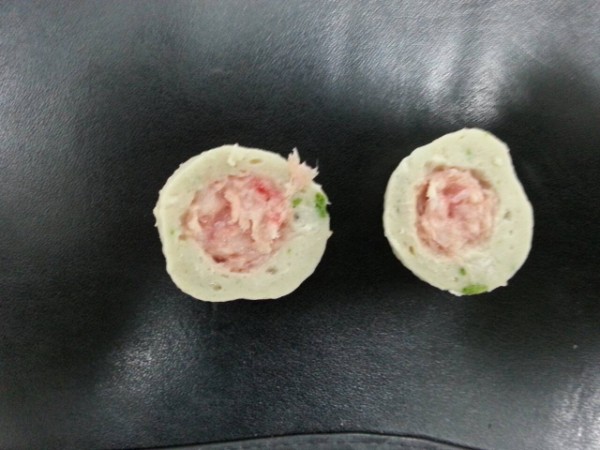 DH808-105 Meatball Filling & Encrusting Machine is suitable for making meatball and fishball with stuffing inside, like fishball with ground meat stuffing. It has two hoppers, one is for the skin and the other one is for the stuffing. Both of skin and stuffing material should be paste or puree texture. It has good stability of stuffing, and the ratio of shell & stuffing can be adjustable. The height of output can be customized to match with next producing step. The product size can be changed by changing mold and also can be adjusted slightly by adjusting speed.
This machine can encrust more stuffing inside to the meat ball.
Features
1. The machine is made of stainless steel. It is easy for cleaning.
2. The operation is simple and components are easy to dismantle.
3. This machine is practical and durable with low breakdown rate, it can discharge easily as well.
4. The speed of feeding and forming can be adjusted separately.
Specification
Power: 1.5HP
Size: L800*W700*H1600 mm
Production: 130pcs/ min
Weight: 220kgs
Applications
Suitable for making meat ball and fish meat ball with stuffing inside.
Movies

Fish Meat Ball with Stuffing.

Related Products

DH808

---

Meat ball forming machine is suitable to form every kind of fish paste, paste into ball-shape products, such as beef ball, fish ball, pork balls, croquette…etc.

---

DH808-I

---

Suitable for forming meat paste into ball-shape or tempura, and the product looks like handmade.

---

---
Press Release
[Expo Notice] FHA Singapore is postponed to 2-5 March 2021

Venue: SINGAPORE EXPO // Booth: 2K2-03

Read More

[Holiday Notice] Dragon Boat Festival 2020/06/25 - 06/28

Our office will be closed 4 days for Dragon Boat Festival. Business will resume as usual on 2020/06/29(Monday). Thank you for your kind attention.

Read More

[Expo Notice] 2020 Foodtech & Pharmatech Taipei is postponed to be advised

Please contact us for any inquiry.

Read More