Large-type Meat Paste Stirring Machine (auto-pouring)
DH701A
Meat Paste Pulping Machine, Fish Meat Paste Stirring Machine, Batter Mixer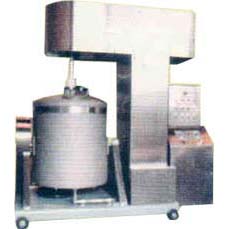 Applied to produce meat paste for making fish meat ball, meat ball, beef ball, etc, as a professional meat ball or fish meat ball processing machinery.
Beautiful shape hopper and stir are made of stainless steels, sanitary and can be cleaned easily. There are lots of model of stirring machine to meet different needs. The function of this one is mixing and stirring the paste, hopper can be lifted by motor for discharge, Stir can be clockwise or anticlockwise, the speed can be adjusted, comes with timer can set the stir time and Ammeter to confirm whether the paste has been soft or not. The top of machine and stir can be lifted, the hopper can pour paste automatically. It is effeciency and saving time. There is another model of vaccum type for choice.
Features
I. The whole machine is made of cast iron cover with stainless steel.
II. The hopper and the stir is made of stainless steel.
III. The hopper can auto-pour product by motor.
IV. The stir can be elevated by motor.
V. It has speed regulator to adjust the stirring speed.
VI. It has ampere meter to see degree of paste.
VII. The timer can set stir time.
VIII. The direction of stir can be clockwise or anti-clockwise.
Specification
Power- 5HP
Size- L900*W550*H1450 mm
Production- 600kg/h
Net Weight- 350kg
Applications
Applied in every kind of meat, vegetarian food mix, bread, dough, pizza, steamed bun and so on.
It is a professional machine to make candies, sugar, Taiwanese meat ball, steam-fried baozi, stuffings, eggs, cake, mayonnaise, cream, etc.
Related Products

DH701B

---

Paster machine for mixing beef, pork, fish, applied to produce meat paste for making fish meat ball, meat ball, beef ball, etc, as a professional meat ball or fish meat ball processing machinery.

---

DH805

---

Meat paste stirring machine is applied for making various meat paste. It can stir shredded meat into pulp for making meatball, fishball, surimi products, vegetarian meat, and do mixing and do mixing and seasoning at the same time.

---

DH805S

---

It can stir and mix meat paste or creamy paste to make fish meat ball, meat ball, beef ball & other products made of creamy material. Table-top stir machine is space saving and can be a demo machine in restaurants or chain stores for fresh food making to customer.

---

---
Press Release
[Expo Notice] FHA Singapore is postponed to 2-5 March 2021

Venue: SINGAPORE EXPO // Booth: 2K2-03

Read More

[Holiday Notice] Dragon Boat Festival 2020/06/25 - 06/28

Our office will be closed 4 days for Dragon Boat Festival. Business will resume as usual on 2020/06/29(Monday). Thank you for your kind attention.

Read More

[Expo Notice] 2020 Foodtech & Pharmatech Taipei is postponed to be advised

Please contact us for any inquiry.

Read More