Diving-Type Batter Coating Machine (400 mm)
DH506A-400
Dip-type Food Coating Machine, Diving-Type Batter Applicator, Batter Breading Machine, Food Coating Machine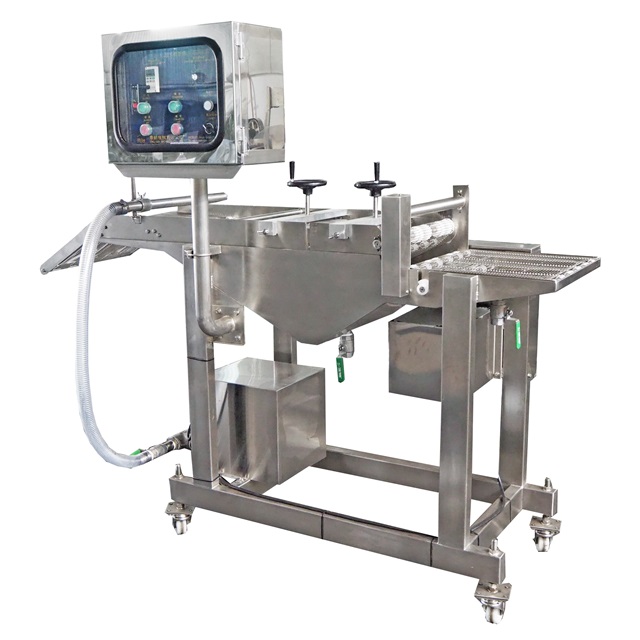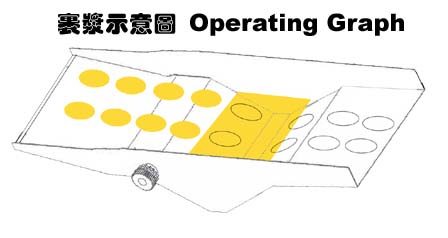 This Diving Type Batter Coating Machine is a necessary machine within frying foods production line. Diving Type is more suitable for denser batter or egg liquid. It makes products completely immerse in batter, the batter can evenly and completely coat on the surface of products. And it can also connect with following processors like Powder Coating Machine or Continuous Frying Machine as a comprehensive production line.
There is an adjustable conveyor on top to press the products, which can make products immerse completely in batter, therefore this Diving Type Batter Machine is especially suitable for products with lighter weight. For example: onion rings, donuts, oyster, squid rings, shrimps, seaweed, cookies, vegetables…, etc.

The whole machine is made by stainless steel, all conveyors can be dismantled for cleaning, comply with sanitary standards. The immersion height is adjustable, which can be adjusted according to the thickness of your products, makes this Diving Type Batter Coating Machine application to various kinds of products. This machine has high pressure special design blower, which can remove redundant batter. The thickness of batter coating is also adjustable. This Diving Type Batter Coating Machine is the bigger version of tabletop batter coating machine DH506-200.
Features
1. The whole machine is made of stainless steel.
2. Quick and easy cleaning: tilt-up conveyors simplifies cleaning.
3. Installed a converter for speed adjustment.
4. Air knife is capable of controlling coating layer's thickness.
5. Height adjustment of hold-down belt accommodates different product sizes.
6. [Option] Circulation cooling system maintains the quality of batter/marinade.
7. Available in 200mm, 400mm and 600mm belt widths, other sizes can be customized.
Specification
Belt width : 400mm
Power- 950W, 220/380/415V, 50/60Hz,3-phase
Capacity: 250~500kg/hr
Net Weight: 168kg
Size: L1800* W1000* H1600 m/m (can be customized)
Applications
vada, parwal spicy chop, potoler spicy chop, mixed vegetable chop, stuffed chilli pakora, potato chop, pumpkin chop, daler pakora, jalebis, Arancini, shrimp tempera…
Movies




Press Release
[Holiday Notice] 2021 Merry Christmas & Happy New Year

We'll have 3 days off for New Year's Day from Dec. 31th to Jan. 2nd, and we'll resume to work on Monday, Jan. 3th.

Read More

2021/07/27 Taiwan is in second-level alert

COVID-19 had caused Taiwan's third-level alert from past few weeks, but fortunately, now we are in second-level alert. Epidemic have been well controlled and the cases have declined.
Staffs...

Read More

[Expo Event] 2022 FHA Singapore Expo: 3/28 - 3/31

Please contact us for any inquiry.

Read More