[Holiday Notice] 2021 Merry Christmas & Happy New Year
2021/12/17
Ding-Han Machinery Co., Ltd.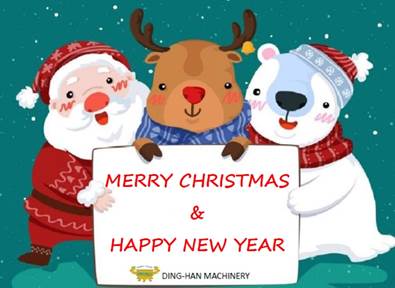 We'll have 3 days off for New Year's Day from Dec. 31th to Jan. 2nd, and we'll resume to work on Monday, Jan. 3th.

If you have any inquiry or machine orders, please let us know before Dec. 31th. During the holidays, please leave your message by the email or inquiry on our website. We'll reply to you as soon as possible when we get back.
Thank you for your kind support in this year, we look forward to further cooperating with you in the next coming year. Ding-Han wish you a merry Chrismas and happy new year!
Press Release
[Holiday Notice] 2021 Merry Christmas & Happy New Year

We'll have 3 days off for New Year's Day from Dec. 31th to Jan. 2nd, and we'll resume to work on Monday, Jan. 3th.

Read More

2021/07/27 Taiwan is in second-level alert

COVID-19 had caused Taiwan's third-level alert from past few weeks, but fortunately, now we are in second-level alert. Epidemic have been well controlled and the cases have declined.
Staffs...

Read More

[Expo Event] 2022 FHA Singapore Expo: 3/28 - 3/31

Please contact us for any inquiry.

Read More