Traditional Paste Mixer
DH804
Meat Paste Stirring Machine, Meat Paste Mixer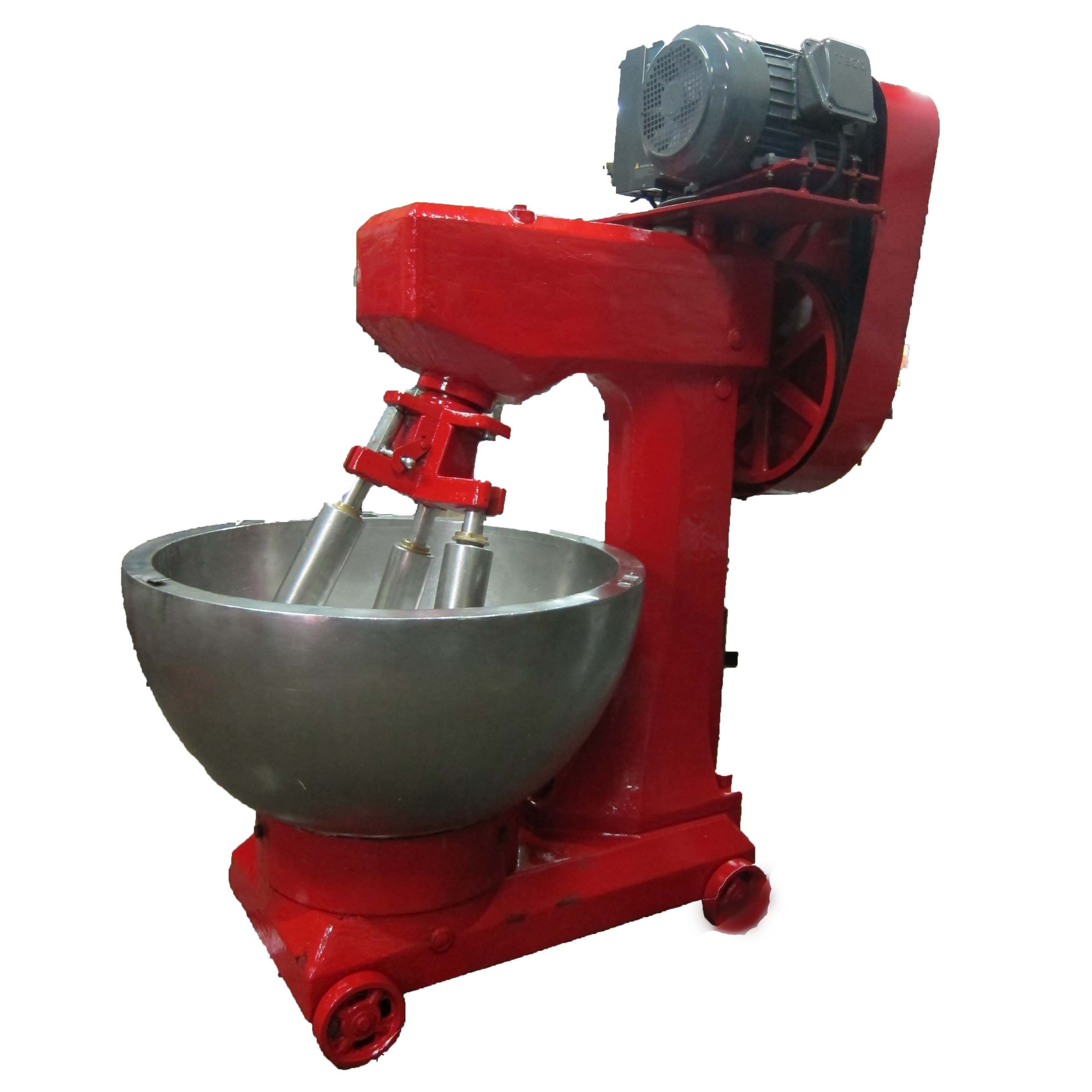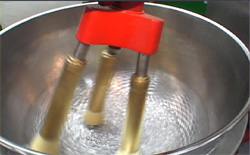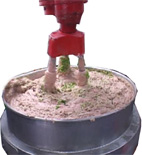 Applied to mix paste for making fish meat ball, meat ball, beef ball, medicion, chemicals, etc, as a professional meat ball or fish meat ball processing machinery.
Beautiful shape hopper and stir are made of stainless steels, sanitary and can be cleaned easily. There are lots of model of stirring machine to meet different needs. Milling Machine is mainly used to making fish meat ball production line, mix seasons, stuffings into fish meat ball and meat ball for making multi-flavor.
The function of this one is the stir can be lifted by motor , the hopper can pour paste automatically, the speed can be adjusted, comes with timer can set the stir time. There are two models, lift or none, for choice.
Features
I. The whole machine is made of cast iron cover with stainless steel.
II. The hopper and the pounder is made of stainless steel.
III. The hopper can auto-pour product by motor.
IV. The pounder can be elevated by motor.
V. It has speed regulator to adjust the stirring speed.
VI. There is no elevating system for choice.
Specification
Power- 5HP
Size- L1700*W1100*H1900 mm
Production- 350kg/batch
Net Weight- 1200kg
Applications
Applied in mixing every kind of fish meat, meat paste, vegetarian food, medicine, chemical, etc.
Movies





Related Products

DH805

---

Meat paste stirring machine is applied for making various meat paste. It can stir shredded meat into pulp for making meatball, fishball, surimi products, vegetarian meat, and do mixing and do mixing and seasoning at the same time.

---

DH805S

---

It can stir and mix meat paste or creamy paste to make fish meat ball, meat ball, beef ball & other products made of creamy material. Table-top stir machine is space saving and can be a demo machine in restaurants or chain stores for fresh food making to customer.

---

DH701B

---

DH701B is an industrial paste stirring machine, suits for making various meat paste for making fishball, meatball, etc. DH701B has strong torsional power especially for shredding/tearing TVP. The stirrer can be detached and the hopper can be pulled out, saves time waiting for discharging material and produce next batch sooner. Additional hoppers can be purchased for different ingredients to increase production with high efficiency, saves time for clean the hopper and avoid mixing smell for different flavors.

---

---
Press Release
[Expo Event] 2021 Foodtech & Pharmatech Taipei will be held from 6/23 to 6/26

Please contact us for any inquiry.

Read More

[Holiday Notify] Tomb Sweeping Day Apr.02 - 05

Our office will be closed 4 days for Tomb Sweeping Day. Business will resume as usual on 2021/04/06(Tuesday. Thank you for your kind attention.

Read More

[Expo Event] 2022 FHA Singapore Expo: 3/28 - 3/31

Please contact us for any inquiry.

Read More