Sifter Machine
DH506S
Vibro Sifter Machine, Food Processing Machinery, Vibro-Sieve-Separator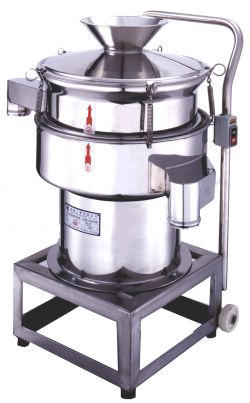 For powder, liquid, granular and other small and diverse products.
Features
1. Separate the granule and powder to improve quality.
2. Can add sift layers to sifter different size.
3. The bore diameter can be customized size.
4. Easy to operate without powder everywhere, and replace the sifters by manual.
5. Beautiful outside design.
6. Made of stainless steel.
7. Multi-layer type of exit and throttle valve.
Specification
Power: 1/2HP
Size: L630*470*880 mm
Sifter net diameter: ψ447 mm
Net Weight: 44kg
Applications
Mainly used in:
Food, chemical, chemicals, plastics, plastic, rubber, pharmaceuticals, cosmetics, energy and materials industry
And other industries. Type of customer demand can design a guest
Movies

Related Products

DH506

---

This vertical-type breading machine (400/600 width) is suitable for food manufacturers who needs process food in higher productivity. Applied to coat chicken/meat/fish filet, chicken wings/nuggets, Tonkatsu, pork chop, hash brown, croquette, hot dog, refreshments...etc. This machine can also be connected with a forming machine(DH806-2) to be a production line. e.g. vegetarian fillet / nuggets. Auto-process with efficiency, fast and high quality. It's easy to operate, dismantle, maintenance and clean.

---

DH506-200

---

Table-top saves place and suitable to be live-showed in restaurant or chain stores to keep food fresh and draw customer's attention. Applied to coat chicken/meat/fish filet, chicken wings/nuggets, Tonkatsu, pork chop, hash brown, croquette, hot dog, refreshments...etc. This machine can also be connected with a forming machine(DH806-1、DH806-2) to be a production line. e.g. (vegetarian) fillet / nuggets. Auto-process with efficiency, fast and high quality. It's easy to operate, dismantle, maintenance and clean.

---

---
Press Release
[Expo Notice] FHA Singapore is postponed to 2-5 March 2021

Venue: SINGAPORE EXPO // Booth: 2K2-03

Read More

[Holiday Notice] Dragon Boat Festival 2020/06/25 - 06/28

Our office will be closed 4 days for Dragon Boat Festival. Business will resume as usual on 2020/06/29(Monday). Thank you for your kind attention.

Read More

[Expo Notice] 2020 Foodtech & Pharmatech Taipei is postponed to be advised

Please contact us for any inquiry.

Read More